We can't believe July is over! We have been so busy with our summer programs, we've hardly had a chance to remember that it is, in fact, SUMMERTIME!
Here's a little of what we've been up to:
Teen Internship Program: Teaching Assistants
During training, our teaching assistant interns created lesson plans to teach in our summer programs. But first, they practiced those lessons on us and one another! We had lessons featuring shape poetry, comic writing, and dialogue. One teen intern had us creating "swamp monsters"; another brought us into a discussion on the problems with "single stories." And now that our programs are in session, we get to see our interns in action! In "Ink It Up!" our intern Alexis ran a workshop on color poetry. We can't wait to see the rest of our interns take over in our upcoming summer programs. These teens really do make great teachers!
The Interview Project
During training, teen interns interviewed each other and wrote incredible profile pieces in just under half an hour! The next day, they went out on the streets to interview people in our community. They typed up those stories and shared them with the group–touching insights into the lives of people we pass by every day: Lou from Hobby Masters, Marvin from Elsie's Sub Shop, Rob from Earth Spirit, and more. These writers really know how to find a story thread and unravel! The Interview Project interns are now off to interview people throughout the summer, writing long profile pieces for us to publish in our feature Bridge Ink issue this fall. We are so looking forward to reading their final pieces!
Parents of Children with Special Needs
On Monday,July 15, in partnership with
SoulShine Studios
, we held our third session of yoga, mediation, and journaling with parents of children with special needs. Jennifer Borenius began the workshop with yoga and meditation and then we read the poem "Remember," by Joy Harjo, to inspire writing memories using the prompt "I remember …" (one of our favorite prompts). The beautiful weather and gorgeous location provided the perfect backdrop to an empowering experience. Our next workshop will be held Monday, September 16. For more information, email
info@projectwritenow.org
.
Summer Slam @ Red Bank Regional
We were so excited to participate in Red Bank Regional High School's Summer Slam program for rising 9th graders. Using The Proust Questionnaire (modified for high school students), we paired students up and had them interview each another. Then they wrote and shared "stories" about their partners. It was a creative and fun way to get to know one another better before the school year begins. We are so grateful for our partnership with Red Bank Regional and look forward to providing more programs!
Summer Workshop for Teacher Ambassadors
On July 23, we hosted a summer workshop for teachers at Urban Coalhouse as part of our Teacher Ambassador Program. After a delicious lunch, we shared our own personal writing and teaching practices, created "heart maps" and wrote in response to what was in our hearts, and bonded over our teaching experiences. The goal of TAP is to create a writing teacher "hive" where we can continue conversations around best practices as well as enrich our writing lives. Interested in learning more about our Teacher Ambassador Program? Email our education director, Colleen Doogan, at colleen@projectwritenow.org!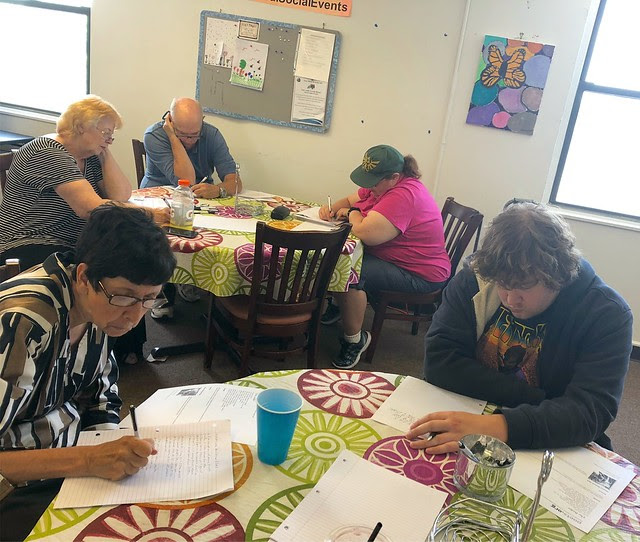 Shore House
At Shore House this month, we read "The Rider," by Naomi Shihab Nye. Inspired by Nye's words, we then wrote our own stories and poems about ways we leave loneliness behind–keeping our hands busy with crafts, filling our bellies with food, going for walks, spending time with pets. It was a difficult prompt to answer, but we really appreciated the honesty and vulnerability in each piece of writing that came from it. After, we wrote about our happy places and what we most appreciate about ourselves. It was such an uplifting experience!
PWN @ Catsbury Park 
We had the purrfect Caturday afternoon writing at Catsbury Park on July 27. We read "Ella Mason and her Eleven Cats," by Sylvia Plath, and wrote about characters that have stood out in our lives. And we read "Finding the Cat in a Spring Field at Midnight," by Pattiann Rogers, and wrote about significant places we love. We also met a slew of inspurrational cats and kittens, some of which sat in our laps and on our pages as we wrote! We are so grateful to Catsbury Park for continuing to welcome us into their space, and for all who participated!
Indie Street Film Festival
We were honored to be a part of the Indie Street Film Festival this year, leading a writing activity after the screening of the film "The Short History of the Long Road" in preparation for the Q&A with director Ani Simon-Kennedy. Our teen intern Sophia Weiss-Goldner closed the event reading a beautiful poem she wrote in response to the film. Thank you, Indie Street Film Festival, for including us in this special event!
"Ink It Up!" with the Boys & Girls Club of Monmouth County
This week, we are running a private "Ink It Up!" program for students in the the Boys & Girls Club of Monmouth County. We had guest instructor and graphic novelist Tara Tomaino come in and do a lesson on storyboarding and sequencing with the students. Everyone was so enthusiastic! We had a lot of Marvel & DC fans who couldn't wait to try making their own comics. We cut out their stories and glued them into a sketchbook for our second piece this summer in The Sketchbook Project!